Why AIA (Vietnam)?
AIA Group Limited and its subsidiaries (collectively "AIA" or the "Group") comprise the largest independent publicly listed pan-Asian life insurance group. It has a presence in 18 markets in Asia-Pacific – wholly-owned branches and subsidiaries in Hong Kong, Thailand, Singapore, Malaysia, China, Korea, the Philippines, Australia, Indonesia, Taiwan, Vietnam, New Zealand, Macau, Brunei, a 97% subsidiary in Sri Lanka, a 26% joint venture in India and representative offices in Myanmar and Cambodia. 
The business that is now AIA was first established in Shanghai over 90 years ago. It is a market leader in the Asia-Pacific region (ex-Japan) based on life insurance premiums and holds leading positions across the majority of its markets. It had total assets of US$172 billion as of 31 May 2015. 
AIA meets the long-term savings and protection needs of individuals by offering a range of products and services including life insurance, accident and health insurance and savings plans. The Group also provides employee benefits, credit life and pension services to corporate clients. Through an extensive network of agents, partners and employees  across Asia-Pacific, AIA serves the holders of more than 29 million individual policies and over 16 million participating members of group insurance schemes. 
AIA Group Limited is listed on the Main Board of The Stock Exchange of Hong Kong Limited under the stock code "1299" with American Depositary Receipts (Level 1) traded on the over-the-counter market (ticker symbol: "AAGIY").
AIA Vietnam officially started operations in Vietnam in February, 2000. Today, 15 years after its inception, AIA Vietnam has grown to be a trusted brand, has built a strong foundation and position in Vietnam, and serves the holders of over 520,000 policies across the country.  

With its strong emphasis on innovation, top-quality customer service, professionalism, AIA Vietnam has gained widespread recognition over many years of operation in Vietnam. This culture of excellence has repeatedly won industry accolades such as "Top Brands", "Golden Dragon Award", "Trusted Products, Perfect Service to Consumers", Certificates of Merit from the Ministry of Finance, Certificates of Merit from Hanoi People's Committee.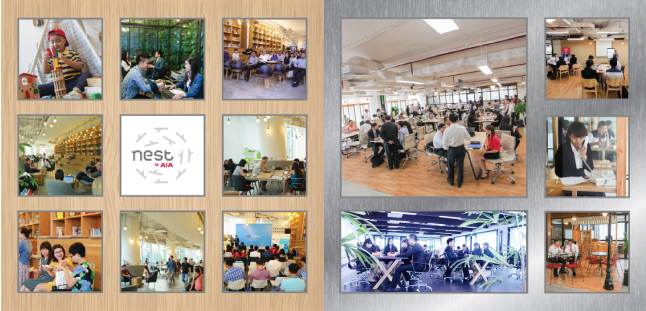 Launched respectively in March 2015, "nest by AIA" and "AIA Exchange" are differentiated and unique models that AIA Vietnam is introducing to Vietnam and more specifically to city dwellers in major markets, so that we can provide the ultimate customer experience that meets their particular requirements.
"nest by AIA" is a destination created to attract big city dwellers, providing opportunities for them to become aware of life insurance so that they can realize its importance and relevance to their own lives. It is a unique concept, where we combined a customer service center, an event space and a café all in one. We wanted the spce to create a sense of community, to be inspring and to push innovation and be a destination.
Where "nest by AIA" is about customers, "AIA Exchange" is about agents. We wanted to create a new generation of agents full of pride and energy that have the skills and knowledge to provide the level of financial advice that big city dwellers need. We wanted this new generation of agents to be focused, disciplined, and dedicated to this career. AIA Exchange's main role is to provide the right skill sets to these agents through continuous training, so that they can become trusted and knowledgeable financial advisors able to take the life insurance industry to the next level.

AIA Vitality is a science-backed wellness programme that helps you make positive change to your health. Get the knowledge, tools and motivation you need to do well on your journey towards healthy living. Not only does AIA Vitality encourage you to get healthier, research shows that engaged members have lower healthcare costs too.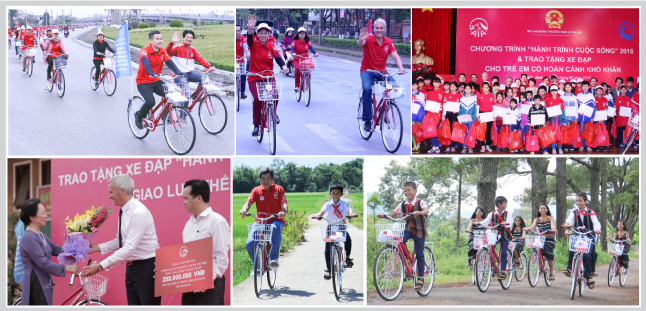 Our Real Life Journey (Hành trình Cuộc sống) - AIA's unique CSR (Corporate Social Responsibility) initiative - is conducted in collaboration with the National Fund for Vietnamese Children (NFVC) to

Raise fund to support underprivileged children in Vietnam helping them to keep up on classes for a better future

Create public awareness to promote Corporate Social Responsibility (CSR) activities in Vietnam

Support the Real Life Company Branding campaign
Our Real Life Journey (Hành trình Cuộc sống) - AIA's unique CSR (Corporate Social Responsibility) initiative - is conducted in collaboration with the National Fund for Vietnamese Children (NFVC) to
Three years (2014, 2015, 2016) after the start of our Journey, with 39 journeys and 38 bicycle donation programmes, through fund contribution from our staff, agents, customers, AIA colleagues in the region and business partners, we have given approximately 3,900 bikes to thousands of children in need from 50 provinces and cities throughout the country.
Inside review about AIA (Vietnam)
Pros: My life

Pros: Fast-paced and stimulating working environment; job mobility within Vietnam as well as across the AIA Group (17 locations across Asia); a supportive and caring community..
AIA (Vietnam) - Recent Updates
hZWXmptommualZaExaBkb-GkoGOYcFLJpMWoq4DHo5ifmatXc6xsmWJrUr98qKellJ--lqXRoJjSsZOnw9HQvafTz9bFntqQxc_OtcnWoKjPpdWk31hr2XKcb1qe26OXp52oo1p0pZ9haGqFmZmmnqmc1pyb13ymxZydnsmHn9SempyI1JHTmtHWhJ7FoGNv4aSgY5dwUtqZ1pydrMWWqZyYW3Chc2WbYGNomnFtYmZsZJJpa5dictdyZWGch8XW2MzR2MOR1qLIhZ3MnplnZZhpnWudZmGfaZRrbWuYcLGw
AIA (Vietnam) alumni you may know
Head of Corporate Services (Procurement, Real Estate, General Admin, Office service)

Vice President - Head of Business Development PFS at Techcombank - Head Office